CAMERON CROWE champion of conventional assumptions and politicall corectness at the 2006 Venice Film Festival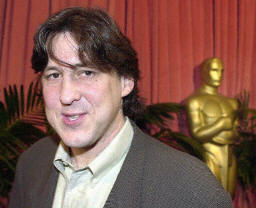 Apparently it's anti-American to oppose imperialism...well at least in Cameron Crowe's view (?)...
At the press conference for receivng the award "The Lion for innovation in the language of cinema" Jean-Marie Straub and Daniele Huillet sent an actor in their place to read three messages written by Straub.
1. "It's come too soon for our death-too late for our life" This after all had been their first award after many years which was recounted in the second message...
2. NO AWARDS SINCE 1953: begining with a short film Machorka-Muff, AND THEN 1962,1966 ... ETC. In 1965 Godard paid for the projection...ETC.
3. THE THIRD MESSAGE...
Besides I wouldn't be able to be festive in a festival where there are so many public and private police looking for a terrorist — I am the terrorist, and I tell you, paraphrasing Franco Fortini: so long as there's American imperialistic capitalism, there'll never be enough terrorists in the world.
Marco Müller then closed the press conference without any of the actors getting a chance to say a word.
Straub's messages caused a furor at the Festival and in the Italian press — but have been virtually unreported outside of Italy. Was an award still in order? The jury met again. At least one jury member, American Cameron Crowe, objected it was not opportune, on the eve of the anniversary of 9/11, but consented on an understanding that the Festival would "distance" itself from Straub's "anti-American" message. (Apparently it's anti-American to oppose imperialism.)
Three Messages
for more film links visit:
King of Slang
MORE STRAUB/HUILLET IN MY NEXT POST:Based on my notes from:Political formations in the cinema of Jean-Marie Straub
by Martin Walsh
"THE RADICALL WORK OF ART MUST OPPOSE THE ILLUSIONIST-MODE AT EVERY LEVELL. THE MEANS OF EXPRESSION ARE ITSELF CALLED INTO QUESTION; BECAUSE THE "MEANS OF EXPRESSION" ARE IDEOLOGICALLY DETERMINED..."
You could say ILLUSIONIST = narative film, the narrative Hollywood editing style - the 180 degree rule and reverse cutting...
by Martin Walsh
from Jump Cut, no. 4, 1974, pp. 12-18
copyright Jump Cut: A Review of Contemporary Media, 1974, 2004
W.