How I discovered the work of Francesca Woodman: There's a Brian Seacrest connection, what!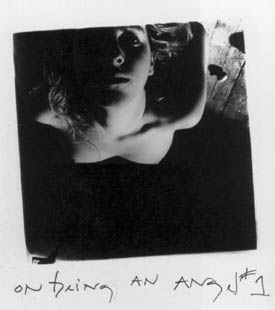 Recently a friend of mine, Erica, was visiting from New York and I think staying at the Grafton where she happened upon a Brian Seacrest interview; she inadvertently became an extra when the producer allowed her to stay for the shoot; Seacrest even mentioned, as they where about to get started, that that girl might need a drink, (supposedly he can just turn-it-on , according to Erica "THE CHEESE FACTOR!!!" well at least he knows it!) I mentioned to Erica that a friend of mine, Stacy, had a Brian Seacrest story posted on her blog, "Pudgy Pigeon Enterprises," I went to find it and noticed that she is a big fan of puppets. Later that day I was look through JPEGS of Richard Edson's work and found these "puppet pictures" and imediately thought of her knowing that she would appreciate them.
The image above can be found at this URL: http://www.photoarts.com/journal/romano/woodman/
Thanks William,
These are really interesting. They feel derivative of Francesca Woodman's work. She is one of my favorite photographers and was a revolutionary in feminist photography. In the early 80s she committed suicide. It's really rather tragic.
Hope you are well,
Stacy Elaine
http://www.stacyelainedacheux.blogspot.com/
Marian Goodman Gallery had an exhibit back in 1999 and Victoria Miro Gallery in 2000
I'm trying to be lighthearted but I think its just a reaction to this sudden sense of loss that I feel, such melancholy...and for somone a person an artist- Francesca Woodman - who I never knew of until today and who is no longer with us.